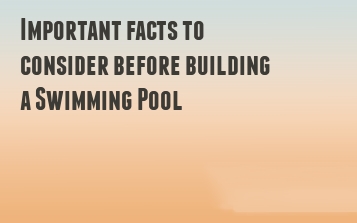 You can use a swimming pool for multiple purposes such as for exercise, increasing the value of your property, pleasure or enhancing the beauty of the house. Having a swimming pool in the backyard is a great way to relax and maintain your health as well.
So, if you are considering adding a pool in your property, remember, proper planning is everything. A swimming pool construction comes with so many considerations, which needs to be taken care of carefully. Since you need to learn about different types of pool, nature of your property, your budget needs to be established.
Every different type of swimming pool needs a different building approach, and as being one of the best swimming pool builders in across London, here we are sharing a few factors to look at before constructing a swimming pool.
Know about your zoning laws: Ensure that your property is abiding by zoning ordinances for pools. Let us help you in this, as many cities have strict maintenance and liability laws in terms of swimming pool construction which should be followed without any exceptions.

Decide the type of the pool: There are three main types of pools available: vinyl-lined, fibreglass, and concrete. Before finalizing any, weigh their pros and cons carefully along with your free space and your requirements. However, we are always ready to walk you through the options and help you make the right choice for your backyard.

Check out the quality and circulation system: Regardless of indoor or outdoor, saltwater or chlorine, each swimming pool must have a water circulation system to keep it fresh and sparkling. With an advanced automation system, energy efficiency and heating technology, we can help you with a reliable, high-efficiency aquatic system for your pool.

Look for longevity: If you are living in an area, where the temperature goes high in summers, the quick installation times of fibreglass and vinyl-lined pools can be tempting. However, you can go for a customized and durable concrete pool to suit your vision. Although it takes one to two months for complementation-it is worth enduring. Talk with our expert to know about extending your home policy in case of any damage.

Consider the maintenance: Properly well-maintained swimming pools become a valuable asset, if you are selling your house in future. Our trained and certified pool technicians can help you with easy maintenance guidelines to keep your pool sparkling for years to come.

Consider different types of water features and lighting: Dynamic jets, underwater lighting, and cascading waterfalls are a few swimming pools accessories which create the ambient atmosphere you crave. However, adding additional features will increase your initial budget, but it is something which gives your pool a more aesthetic appearance.

Landscaping: One of the essential aspects, landscaping plays an important role in your swimming pool enjoyment. Think if you want palms shading you from the afternoon heat or a pebble border, not just to allow a peaceful and enjoyable moment but also to enhance the aesthetic pleasure of your pool. Consult without a landscape specialist to create a pretty, manageable—green space around your pool.

Your budget: With all the mentioned determinations, budget is the most crucial thing to decide. However, it is recommended to set your budget even before finalizing any design or accessories. A pool is always a remarkable enhancement in the house, but considering a few crucial things is also important. Feel free to contact our financial advisor about the costs and benefits of your pool.
Ways to decide where you should put your pool
Sightlines: Check the view of the pool from inside the house and from other garden areas. It will help you to determine from where and from which angle your pool is looking more beautiful.

Adding accessories and lighting features will make it more attractive. If you have kids, please make sure that you can keep an eye on them from inside.
Wind exposure: Wind can cool the water and increase evaporation.

Accessibility: think about the entrance and exit of the pool and where will you hang out around the pool?

Storage: Where will you keep the filtration equipment, pool cleaner, toys and sun umbrellas?
Know us:
As any construction project can have unforeseen costs and setbacks, as being a reliable and trusted swimming pool builder, we assure each of your clients with quality and on-time project delivery. Regardless of this, if you want, you can see our previous projects, and we can share our work process with you. We believe in 100% transparency and keep you updated about our every step.